Logitech SoundMan-16 / Pro AudioSpectrum 16 Basic (PAS16LL): Mini Review
The card I purchased is a Logitech SoundMan-16. This is the same card as a Media Vision Pro Audio Spectrum 16 Basic, a PAS-16 card with no SCSI interface. You can see a good quality picture of it at http://retronn.de/imports/hwgal/hw_sound_card_logitech_pas16.html.
Installation
I found the original Logitech installation files and used these a starting point. They are available below. I did this because I was curious how much customization Logitech did and there isn't a lot of information out there about the Logitech software that originally came with the card.
No complaints about the installer. It is friendly enough and will guide you through the DOS and Windows 3.1 portions of install.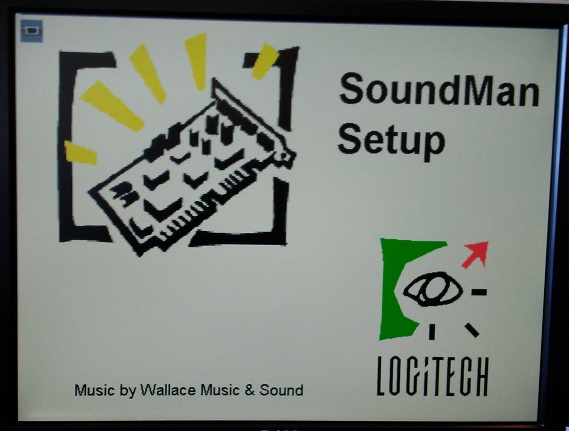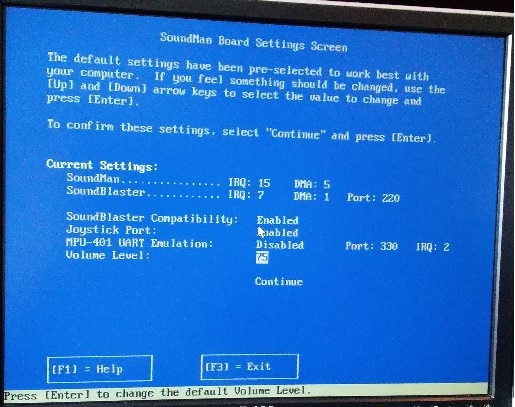 When you are done you will end up with version 3.16 of MVSOUND.SYS and the mixer. Everything is installed to C:\SOUNDMAN by default.
I later upgraded the MVSOUND.SYS, PAS.EXE, and PROAS.EXE to 3.24 from the Vogons archive (http://vogonsdrivers.com/getfile.php?fileid=198). I did not notice any difference in functionality. Please note that the mixer and driver need to be compatible with each other.
By default the PAS16 side of the card will be configured with IRQ 15 / DMA 5 and the SB card with IRQ 7/ DMA 1 / Port 220. I changed the PAS16 IRQ to 7 and SB IRQ to 5 as my reading indicated this is a more common configuration.
The Windows 3.1 software that gets installed is fairly sparse. It includes MCS MusicRack 1.0, which is a combination of an audio mixer, player, and recorder. The other thing that gets installed is Icon Hear-It Lite 1.0, which allows you to do all sorts of cutesy things with the Windows UI that I'm not really interested in.
Games Tested
Secret of Monkey Island: Adlib. No sound on my 486 DX4-100 unless you have either have a patched version or disable L1 cache with ICD.exe.
Street Rod 2: Adlib. Garbled unless L1 cache is disabled. Did not have this problem with my previous ESS1868F card.
Overkill: Adlib. Works fine.
LSL2 and LSL3: Adlib. Works fine.
LSL1VGA: SoundBlaster / Adlib audio works out of the box. Had to replace the PROAUDIO.DRV with the one from LSL6 for PAS audio to work at all. Still saw a weird issue with hanging notes.
LSL5: Could not initially get any sound, even from SoundBlaster / Adlib. Replaced the PROAUDIO.DRV with the one from LSL6 for PAS audio to work.
LSL6: PAS. Works.
LSL7: PAS. Works.
Freddy Pharkas: PAS. Works.
Where in the USA is Carmen Sandiego?: Adlib. Works.
Doom: PAS. Works.
Heretic: PAS. Works.
Ultima 6: Adlib. Works.
Ultima 7: SB. Works.
Ultima 8: SB. Works.
Dungeon Master 2: PAS. Works.
Quake: SB. Works.
Compatibility Notes
The SoundBlaster portion of the card is 1.5 compatible.
The PAS16 seems more "speed sensitive" than some of the other ISA sound cards. I did not have to disable L1 cache on Street Rod 2 to get Adlib audio on my previous ESS1868F. The card has settings to use your ISA clock vs. an internal clock. This made no difference in my case.
I did get everything I tried to work, but I definitely spent more time messing around than with other cards I have used. The Sierra SCI games and their audio drivers along with the speed issues are both examples of this.
Pros
Good sound quality. I did not have any issues with noise and having to mute inputs that others have mentioned.
The mixer program is very handy once you get use to it. Keyboard shortcuts to adjust volume are handy.
It is possible to unload the TSR after initialization. The mixer will not work, but this is useful if you need to save conventional memory and can't load high. (Add /U to your call to MVSOUND.SYS, or initialize with PROAS.EXE).
The PC internal speaker output works very well.
Cons
Individual games tend to mess with the mixer if you adjust any volume settings in-game. I found myself running "PAS F5" a lot to put the settings back the way I wanted.
Only SB 1.5 is supported if the game does not support PAS natively.
You WILL have to spend time tweaking things and running down problems.
Conclusion
If you want a card that you can plug in and have it "just work", this is not it. If you want somewhat of a project, go for it.
This isn't a bad choice now that we have forums, FAQs, blogs, driver versions, patches, etc, all easily available online. This thing would have been absolute hell to an average (non-expert) DOS / Windows user when it came out in the early 90s.
Drivers
Recordings
Helpful Resources